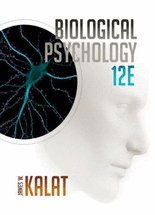 저 자
: James W. KalatAuthor
Dr. James W. Kalat's Biological Psychology is widely used for good reason: an extremely high level of scholarship, a clear writing style with amusing anecdotes, and precise examples. Kalat's goals are to make biological psychology accessible and to convey the excitement of the search for biological explanations of behavior, and he delivers. Updated with new topics, examples, and recent research findings, the new edition continues this book's tradition of quality.
Introduction. 1. Nerve Cells and Nerve Impulses. 2. Synapses. 3. Anatomy and Research Methods. 4. Genetics, Evolution, Development, and Plasticity. 5. Vision. 6. Other Sensory Systems. 7. Movement. 8. Wakefulness and Sleep. 9. Internal Regulation. 10. Reproductive Behaviors. 11. Emotional Behaviors. 12. The Biology of Learning and Memory. 13. Cognitive Functions. 14. Psychological Disorders. Appendix A: Brief, Basic Chemistry. Appendix B: Society for Neuroscience Policies on the Use of Animals and Human Subjects in Research.
James W. Kalat received his B.A. degree from Duke University, Summa Cum Laude, and then continued his education at the University of Pennsylvania, receiving his Ph.D. in psychology under the supervision of Paul Rozin. Currently, Dr. Kalat is at North Carolina State University where he is a professor of psychology, teaching both introductory psychology and biological psychology. In addition to having authored the best selling biological psychology text, Dr. Kalat is the author of INTRODUCTION TO PSYCHOLOGY, 9th Edition (Wadsworth, 2011) and has published articles on a variety of diverse topics such as taste aversion learning and on the teaching of introductory psychology. A talented and frequently requested speaker, Kalat receives rave reviews wherever he presents, including the National Institute on the Teaching of Psychology and the Texas Community College Teachers Association.
Copyright ⓒ

E-CIP Contents.

All Rights Reserved.